January 2018
My GP had the previous April had referred me to see an Endocrine Consultant; a specialist in the field of Endocrinology who treats a wide range of conditions such as Type 1 and Type 2 diabetes, thyroid, pituitary and adrenal diseases, and metabolic bone diseases including osteoporosis and parathyroid disorders. I had been told that my Thyroid was under active; the outcome was after five months (I ditched the last prescription) on a hunger suppressant and a doubling of the thyroxin dose I was on I had dropped 5 kg's. I had gone from 121 kg's to 116 kg's. Still felt like shit; felt like a fat bastard (my wife had started to notice as well) and was snappier with the kids than ever. To be fair they still loved me and life was not bad but I was going nowhere with this. The only marker that had improved was my thyroid activity; a high reading of thyroid stimulating hormone indicates an under active thyroid gland, hypothyroidism which is what I had been experiencing apparently since my thirties….. I only write this because I do not consider myself an idiot but thought hypo meant over productive? Anyway these were now normal so I had the right dosage of artificial hormone entering my system but I had run out…. Typical of me, so I make an appointment with the GP and went to see him to load up with pills.
My GP is a really nice guy, I don't go generally but if I do I like to see Dr Paris Bovell. Probably eight years younger and is a really personable guy that makes you feel comfortable. Anyway, we chatted about my experience with the specialist and told him that I felt the course of hunger suppressant was not really for me and that I had not taken the last prescription. Thinking I was in for a lecture I readied myself but instead Dr Bovell explained that late the previous year he had lost 20 kg's himself following a very low calorie, low carbohydrate diet. That you consumed three pieces from the range of products a day along with 2 litres of water and two cups of vegetables. My reaction was that he was the expert and I was prepared to commit. He explained that he was no expert; that during his medical training he had probably attended a handful of lectures regarding nutrition and that he himself had taken some advice from dietician friends and whilst they were not sure of the nutrition merits of this course of action his own results were undeniable. Essentially this plan would put your body into a state of ketosis where rather than the body running with glucose it would convert body fat to ketones and the body would run of them burning fat. We chatted some more about my previous experience trying the paleo diet and what I had read about the Keto diet; even subconsciously I must have wanted to change the way I was living. We agreed that I would go and see him fortnightly. This commitment from him really was the key to me sticking with the plan. I had explained that my preferred philosophy would be a very simple one; he gave me some very simple advice and a handout that he himself had put together. It included Instructions with regards to limiting yourself to three of these products a day and a list of non-starchy vegetables. He also advised that his experience was that the shakes sustained him more in the morning he would go as long as he could then have a bar. Then his evening meal would be two cups of streamed vegetables with either a shake or a bar. We agreed a goal weight of 87 kg's. This equated to an imperial stone (7 kg's) heavier than I was when I met my now wife at the age of 22 but was lighter than when we married 20 years previous, I left his office went straight across the street picked up the Thyroxin and browsed the section selling the products. I bought a box of shakes, a box of bars and soups. My meal plan was as simple as this:
Breakfast - Vanilla Shake (Blend it with Ice and they are just like Macca's)

Lunch – A Bar (Chocolate, they are nice and I am (was) an addict)

Dinner – Soup (Vegetable or Chicken pours on two cups of vegetables stir-fried in coconut oil)
Breakfast and lunch were easy, fitted into my working day really well. The shake was just like a protein drink, shaken with water (no dairy was taken at this time) and the bar would be eaten when I needed it (Fasting would become a bigger consideration in time). Dinner was important because I created a meal I would cook. I'm no chef but this is how I would go about it.
I would heat table spoon of coconut oil with seasoning, salt, pepper and some herbage, add the chopped vedge, fry up until the mushroom had let off all their moisture and started to brown, then add the soup. It looked like an Asian soup which I'd always considered a real healthy meal and it felt good to be eating it.
Food List:
Eat:
Asparagus, Bok Choy, Broccoli, Brussels Sprouts, Celery, Cabbage, Capsicum, Carrots, Cauliflower, Cucumber, Eggplant, Lettuce, Leek, Mushrooms, Onions, Radish, Shallots, Silver beet, Snow Peas, Spinach, Tomato, Zucchini, Pickles (No sugar content, check for low carbohydrate content)
Avoid:
Fruit Juice, Alcohol,Cordials, Soft Drinks even diet varieties, Corn, Lentils, Potato, Sweet Potato, Legumes, Peas, Pumpkin, Parsnip, Turnip, Beetroot, Avocado, Olives
Additional Allowances:
Miso soup and soups made from the vegetables of the 'Eat' list
Sauces in moderation; Worcestershire, mustard, oil dressings, vinegars
Herbs and Spices
Lemon and lime juice; flavour water too
Daily intake - Two cups of from the 'Eat' list supplemented with 3 products from a Low Carbohydrate, Very Low Calorie meal replacement range. Two litres of Water.
With dieting you will read that there are always side effects, feeling cold and headaches are commonly referred to. I didn't experience any; I just felt better. Did I experience flu like symptoms; maybe but I wasn't exactly feeling tip top before so why attribute it to a change in lifestyle. The more you over think possible side effects the more you'll experience then and give yourself excuse. It might be easier said than done but just get on with it. Within a week I wasn't crashing during the day or falling asleep early in the evening. I've put down what I've done; for me it's had results. I am writing this to inspire people of course and for this regime to be copied but I've got no qualifications so if things start to go south, seek some expert advice my doctor has been great.
Exercise; I have for the last two years at least gone to the gym two to three mornings a week, played Soccer one evening a week regularly. I enjoyed physical activity and was keen to increase this.
The advice to compliment this change in lifestyle was as follows:
90 Minutes of moderate intensity cardio exercise per day
This can be broken up though out the day, 2 lots of 45 minutes, 3 lots of 30 minutes. If they last a minimum of 10 minutes you can have as many slots that equate to 90 minutes.
Moderate cardio exercise can be walking, you need to raise your heart rate to at least 60% of your maximum heart-rate, generally considered to be 100 beats per minute.
I never initially achieved this, I continued the gym sessions and the Soccer. My gym had moved to the other side of town and this was the catalyst for changing gyms to one within the office complex I worked. I committed to going in Monday, Wednesday and Friday, running on Tuesday and playing Soccer on a Thursday. The Gym workouts went from a thirty minute session burning 369 CAL with an average heartbeat of 124 BPM to 45 minutes sessions burning 671 CAL with an average heartbeat of 141 BPM.
My Tuesday runs were tough; I worked out a loop from home which was 2.8 kM; I struggled to 1 kM without wanting to stop and had to for the heart rate to recover. I completed the run in about 22 minutes, just under 8-minute k's, this was more challenging than the change in diet but I was determined. At about 1.2 k there was a road junction, by the end of the month I could reach this point without stopping. There was improvement.
The last week in January was a family holiday, I left weighing 105 kg. I really didn't to put any more on. I was not prepared to not have a couple of beers at the swim up bar with my wife but the pizza, chips and ice creams with the kids I was prepared to forego (not that they didn't, they were on holiday and whilst they have treats they don't eat too bad). I stayed clear of the carbohydrates, breakfast was bacon and eggs which does get a bit samey, but there was some paleo bread which I had with peanut butter. But if I ate this I go plod for half an hour in the gym on the treadmill. I did some weights on the machine which was new to me and enjoyed it. For lunch I'd go with a salad and for dinner protein and some greens, Again either salad or green vegetables. A couple of beers and kept everything in moderation. On my return weighed in One hundred an five kilos. Mission complete and it was not too hard!
My KPI's for January:
Weight: Start: 116 kg's – End 105 kg's
Run: 1.2 kM before stopping; 3 kM in about 22 minutes
Note: My KPI's are about what motivates me at a given time. They change and will continue to do so. There are as many or few as I decide but are markers of achievement. When they start to go a way I do not like I hope I can be honest enough to reset them and be accountable in meeting them again. Let's see!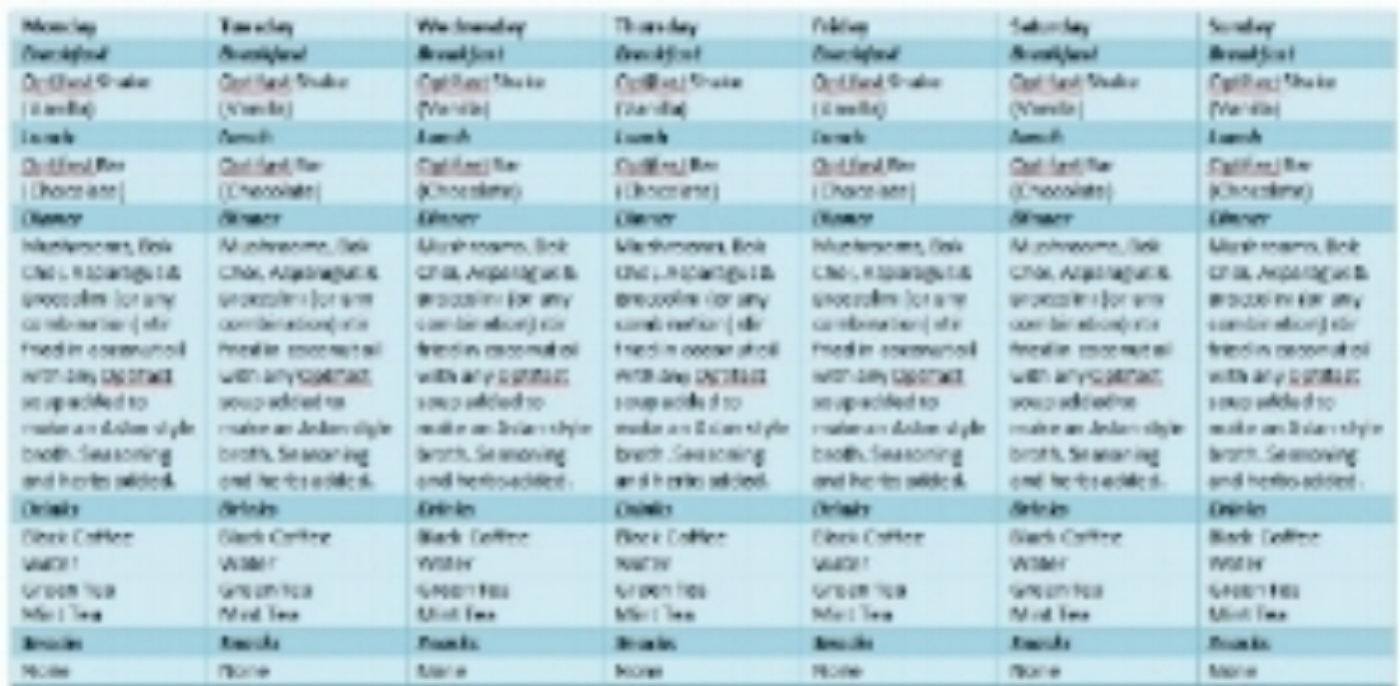 My diet was:
Breakfast – Optifast Shake (Vanilla)
Lunch – Optifast Bar (Chocolate)
Dinner – Mushrooms, Bok Choi, Asparagus & Broccolini (or any combination) stir fried in coconut oil with any Optifast soup added to make an Asian style broth. Seasoning and herbs added.
No alcohol (or very little); No coffee; Green or Peppermint Tea
Optifast is a Nestle product but there are others; but they need to be low carbohydrate and very low-calorie type. All products have this marked on the packages.

My exercise routine:
Monday – 45 Min gym session; 18 minutes on the treadmill, 7 minutes on the rower, two weigh machines pressing 10 kgs for 12, 6 repetition circuits.
Tuesday – 3kM plod completed in about 22 mins
Wednesday – 45 Min gym session; 18 minutes on the treadmill, 7 minutes on the rower, two weigh machines pressing 10 kgs for 12, 6 repetition circuits.
Thursday- Soccer; five a side, 2 twenty-minute halves
Friday – 45 Min gym session; 18 minutes on the treadmill, 7 minutes on the rower, two weigh machines pressing 10 kgs for 12, 6 repetition circuits.
Saturday/Sunday - nothing